CODE : TKT-MUD

Home

> Seoul >

Myeongdong MUD SPA

Myeongdong MUD SPA
Introduction
- Operation Information -

・Open hour : Every Monday to Sunday:09:00 - 01:00 ( Last admission at 23:00 )
・Close at : Open all year round (expect Chinese New Year, Mid-Autumn Festival day)


・


- Address in Korean : 서울특별시 중구 을지로3가 295-4, B1F
- Address in Chinese : 首爾市中區乙支路三街295-4號 B1F
- Address in English : 22 Myeongdong 8na-gil, Myeongdong 2(i)-ga, Jung-gu, Seoul

※Avalible reservation time : All time during open hour
※Please provide your reservation time at the remarks blank and please be punctual.




- Highlights -



Shopping in Myeongdong can get really tiring cuz to its crowded streets and fast-paced tourists.
Thankfully, there's a spa which serves as an oasis for exhausted shoppers and travelers alike!

Myeondong's Hana Mud Spa also caters to women only so no boys are allowed here!
Get to choose from various packages that all include a mud mask treatment, where therapists
will coat your entire body in Boryeong mud, which will help cleanse your skin and have it as soft
as a baby's bottom after you're washed.

At Hana Mud Spa, you won't be pampered in only the best way but you also get to use its facilities
of saunas and hot pools like your usual Korean jimjilbang.

You'll really get to look like a whole new person (literally) when you avail of these spa packages.






- Package Details -

(1) Mud Mask Basic Course (90 mins)
Includes: Sauna, Korean Herbs Jjimjibang Sauna, Korean Mitts Peeling, Cucumber or Seaweed Mosturising Care
Hair Mask, Shampoo and rising , Full Body Mud Mask

(2) Mud Mask VIP Package A (Basic Course + Package A / 150 mins)
Includes: Basic Course + Collagen Mask, Lymphatic Drainage Facial Massage, Arms or Shouder Massage
Head Massage, Foot Peeling or Korean Suction Cupping Therapy

(3) Mud Mask VIP Package B (Basic Course + Package B / 160 mins)
Includes: Basic Course + Collagen Mask, Lymphatic Drainage Facial Massage, Arms or Shouder Massage
Head Massage, Foot Peeling or Korean Suction Cupping Therapy

(4) Mud Mask VIP Package C (Basic Course + Package C / 170 mins)
Includes: Basic Course + Ginseng or Modeling Mask, Full Body Lymphatic Drainage Massage, Head Massage
Abdominal Massage, Foot Peeling

(5) Mud Mask VIP Package D (Basic Course + Package D / 190 mins)
Includes: Basic Course + Collagen Mask, Lymphatic Drainage Facial Massage, Full Body Aromatherapy Lymphatic
Drainage Massage, Head Massage, Abdominal Massage, Foot Peeling

(6) Royal Package (Basic Course + Royal Package / 200 mins)
Includes: Basic Course + Golden Oxygen Mask, Lymphatic Drainage Facial Massage, Full Body Aromatherapy
Lymphatic Drainage Massage, Facial Peeling, Head Massage, Abdominal Massage, Abdominal Modeling Lifting Massage
Foot Peeling


- How to go -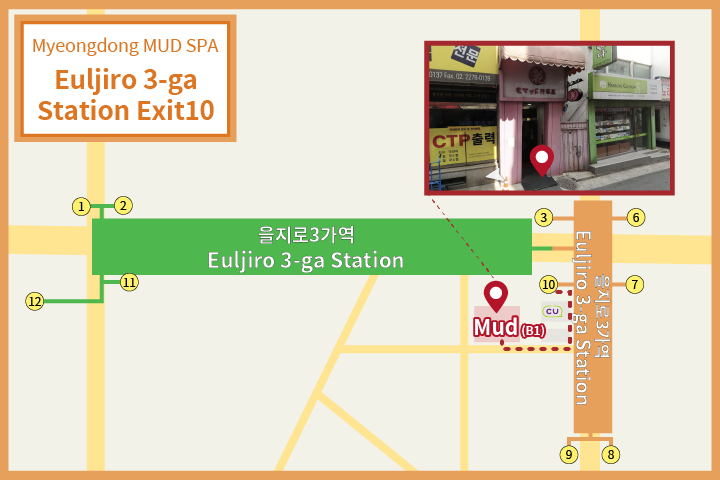 ・By Subway
(1) Get off at Euljiro 3-ga Station on Line 2, get out from Exit 10 and walk for about 1 minute to the Myeongdong MUD SPA (B1)